Page 20 - Epistemo Vikas Leadership School Diary
P. 20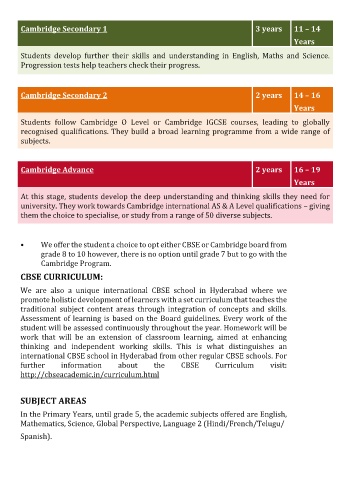 Cambridge Secondary 1                                                              3 years      11 – 14

                                                                                                        Years


        Students  develop further their skills  and understanding  in  English, Maths  and  Science.
        Progression tests help teachers check their progress.



        Cambridge Secondary 2                                                              2 years      14 – 16
                                                                                                        Years


        Students follow  Cambridge O  Level or Cambridge IGCSE courses,  leading  to  globally
        recognised qualifications. They build a broad learning programme from a wide range of
        subjects.



        Cambridge Advance                                                                  2 years      16 – 19

                                                                                                        Years


        At this stage, students develop the deep understanding and thinking skills they need for
        university. They work towards Cambridge international AS & A Level qualifications – giving
        them the choice to specialise, or study from a range of 50 diverse subjects.



        •      We offer the student a choice to opt either CBSE or Cambridge board from
               grade 8 to 10 however, there is no option until grade 7 but to go with the
               Cambridge Program.

        CBSE CURRICULUM:

        We  are  also a  unique  international  CBSE school  in Hyderabad  where  we
        promote holistic development of learners with a set curriculum that teaches the
        traditional  subject  content areas through  integration of  concepts  and skills.
        Assessment of learning is based on the Board guidelines. Every work of the

        student will be assessed continuously throughout the year. Homework will be
        work  that  will be  an extension of classroom learning,  aimed at enhancing
        thinking and independent working  skills. This  is  what distinguishes an
        international CBSE school in Hyderabad from other regular CBSE schools. For
        further       information         about        the       CBSE        Curriculum         visit:
        http://cbseacademic.in/curriculum.html

        SUBJECT AREAS


        In the Primary Years, until grade 5, the academic subjects offered are English,
        Mathematics, Science, Global Perspective, Language 2 (Hindi/French/Telugu/

        Spanish).