Page 19 - Epistemo Vikas Leadership School Diary
P. 19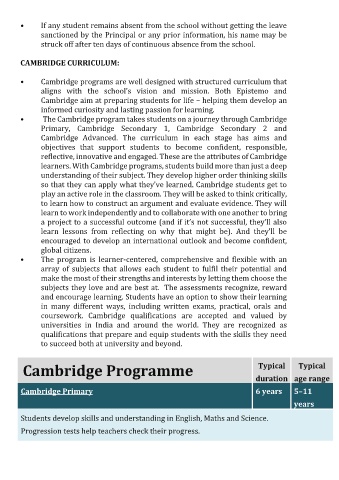 •      If any student remains absent from the school without getting the leave
               sanctioned by the Principal or any prior information, his name may be
               struck off after ten days of continuous absence from the school.

        CAMBRIDGE CURRICULUM:



        •      Cambridge programs are well designed with structured curriculum that
               aligns  with the  school's  vision  and mission.  Both Epistemo and
               Cambridge aim at preparing students for life – helping them develop an
               informed curiosity and lasting passion for learning.
        •       The Cambridge program takes students on a journey through Cambridge
               Primary, Cambridge  Secondary 1,  Cambridge  Secondary 2  and
               Cambridge  Advanced. The curriculum  in each stage has aims and
               objectives  that support students  to become confident,  responsible,
               reflective, innovative and engaged. These are the attributes of Cambridge
               learners. With Cambridge programs, students build more than just a deep
               understanding of their subject. They develop higher order thinking skills
               so that they can apply what they've learned. Cambridge students get to
               play an active role in the classroom. They will be asked to think critically,
               to learn how to construct an argument and evaluate evidence. They will
               learn to work independently and to collaborate with one another to bring
               a project to a successful outcome (and if it's not successful, they'll also
               learn lessons  from reflecting  on  why that might be).  And  they'll be
               encouraged to develop an international outlook and become confident,
               global citizens.
        •      The  program  is learner-centered,  comprehensive  and flexible  with an
               array of subjects that allows  each student to  fulfil their potential  and

               make the most of their strengths and interests by letting them choose the
               subjects they love and are best at.  The assessments recognize, reward
               and encourage learning. Students have an option to show their learning
               in  many  different ways, including written  exams,  practical,  orals  and
               coursework.  Cambridge  qualifications are accepted  and valued by
               universities in  India and  around  the world.  They are recognized  as
               qualifications that prepare and equip students with the skills they need
               to succeed both at university and beyond.

                                                                                            Typical       Typical
         Cambridge Programme
                                                                                           duration  age range
        Cambridge Primary                                                                  6 years      5–11

                                                                                                        years


        Students develop skills and understanding in English, Maths and Science.

        Progression tests help teachers check their progress.