Page 4 - Epistemo Vikas Leadership School Diary
P. 4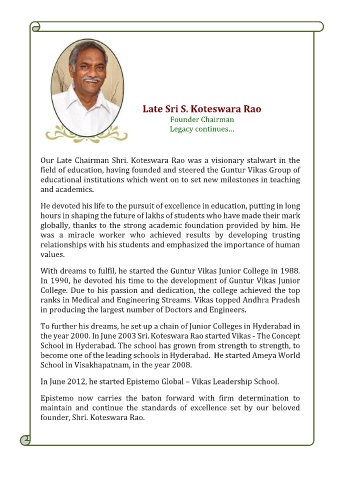 Late Sri S. Koteswara Rao

                                                             Founder Chairman

                                                             Legacy continues…



               Our Late Chairman Shri. Koteswara Rao was a visionary stalwart in the

               field of education, having founded and steered the Guntur Vikas Group of

               educational institutions which went on to set new milestones in teaching
               and academics.


               He devoted his life to the pursuit of excellence in education, putting in long

               hours in shaping the future of lakhs of students who have made their mark

               globally, thanks to the strong academic foundation provided by him. He
                was  a miracle  worker  who achieved
                                                                  results by developing trusting
               relationships with his students and emphasized the importance of human

               values.


               With dreams to fulfil, he started the Guntur Vikas Junior College in 1988.

               In 1990, he devoted his time to the development of Guntur Vikas Junior

               College. Due to his passion and dedication, the college achieved the top

               ranks in Medical and Engineering Streams. Vikas topped Andhra Pradesh
               in producing the largest number of Doctors and Engineers.


               To further his dreams, he set up a chain of Junior Colleges in Hyderabad in

               the year 2000. In June 2003 Sri. Koteswara Rao started Vikas - The Concept
               School in Hyderabad. The school has grown from strength to strength, to

               become one of the leading schools in Hyderabad.  He started Ameya World

               School in Visakhapatnam, in the year 2008.

               In June 2012, he started Epistemo Global – Vikas Leadership School.


               Epistemo now  carries  the baton forward  with firm  determination to
               maintain  and continue  the  standards             of  excellence  set  by our beloved

               founder, Shri. Koteswara Rao.